Spotlight: Richard Villegas
Arrivia
Senior Key Accounts Manager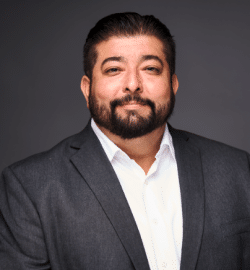 What is your cultural background?
I was born in Mexico to parents who were living in the USA at the time. Despite spending only 48 hours there, I was then taken to my home in Calexico, CA. Throughout my life, I've resided in Southern California, growing up in the Imperial Valley, which lies between San Diego, CA, and Yuma, AZ. My great grandparents hailed from Portugal and Spain, though I haven't had the chance to visit their homelands. I have a vivid memory of my Grandmother speaking a peculiar form of Spanish that I later learned was actually Portuguese.
What does Hispanic Heritage Month mean to you?
I take genuine pride in my heritage. Amidst uprisings and global turmoil, countless individuals—perhaps millions—find themselves uprooted and without a homeland. In light of this, I consider myself incredibly fortunate to have two countries I can claim as my own. My birthplace in Baja California and upbringing in Southern California have been truly remarkable experiences. It's safe to say that we possess a unique advantage, enjoying the finest aspects of both worlds, and this is something that is often admired across the globe.
How does your Hispanic Heritage influence your career?
My Hispanic heritage has significantly impacted my career journey. The richness of diversity has been a tremendous advantage, gifting me with the ability to speak two languages and embrace two cultures. This blend has been pivotal in shaping my professional identity. Importantly, this background has also provided me with access to unique doors and opportunities that might not have arisen had I not been Hispanic. At the very core of my being resides a tapestry woven from family traditions, cultural influences, faith, and notably, the central role of cuisine.
What advice do you have for aspiring individuals that may want to follow your career path from diverse backgrounds?
Embrace your unique diversity without hesitation. Avoid the inner struggle of trying to conform to something that doesn't truly represent you. Instead, focus on achieving excellence in your chosen career, drawing strength and motivation from your authentic self to drive your aspirations forward.