Spotlight: Rocio Garner
Arrivia
Key Accounts Associate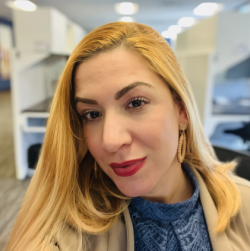 What is your cultural background?
I come from a rich cultural blend. I'm Mexican, with my roots deeply intertwined with the vibrant city of Mexicali in Baja California, Mexico. It's a place where I spent my formative years. A true "Cachanilla," connected to the land by the very plants that have shaped generations of homes filled with Hispanic pride. My journey has spanned both sides of the border, a life split between Mexicali and the United States, painting my identity with diverse experiences and heartfelt connections.
What does Hispanic Heritage Month mean to you?
Hispanic Heritage Month is like a fiesta, a dedicated time to honor the heartbeat of the Hispanic community. It's a moment to applaud our colorful culture, and the beautiful history that brought us here. During this special time of year, I find joy in immersing myself in celebrations. I head to downtown San Diego to revel in the spirited Independence Day festivities and dive into any other Hispanic cultural events that light up the city.
But it's more than just fun and festivities – it's a chance to pass on the torch of our heritage to the next generation. I use this time to sit down with my kids and share the stories, the traditions, and the significance of our culture. It's about connecting them to their roots, helping them understand the journey that's shaped their identity.
So, Hispanic Heritage Month isn't just a month on the calendar; it's a reminder of pride, joy, and the bonds that tie us together across generations.
How does your Hispanic Heritage influence your career?
My Hispanic heritage has played a significant role in shaping my career path. The strong work ethic and entrepreneurial spirit that I've observed in my family, from my grandparents to my parents, have deeply influenced my own approach to work and business.
Growing up in a diverse town has been a valuable experience. Surrounded by people from various backgrounds such as Mexicans, Cubans, Asians, and more, I've had the privilege of gaining insights into different cultures and perspectives. Living near the border and having access to California has also given me the opportunity to learn English as a second language, which has been a valuable asset in my career.
Overall, my Hispanic heritage has instilled in me a determination to pursue my goals, an appreciation for diversity, and a curiosity to embrace new experiences. It's a driving force that continues to shape my journey in positive and meaningful ways.
What advice do you have for aspiring individuals that may want to follow your career path from diverse backgrounds?
Believe this with all your heart: in this journey of life, anything is attainable. As long as you keep your focus sharp and your determination unwavering, you can turn your dreams into reality. Don't ever allow negativity from others to dim your spirit or hinder you from reaching the heights you aspire to. Your dreams are valid, and your potential knows no bounds. Stay true to your path and let your passion be your guide.